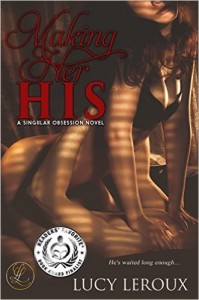 Steam:: Steam Level 5
A READERS' FAVORITE FINALIST **SIZZLE CATEGORY**
For almost five years, Alex has had one obsession. Her name is Elynn.
Alex Hanas couldn't believe that after so many years as a widower, his father was getting remarried. To make matters worse, the American gold digger had a kid—a daughter named Elynn. After months of avoiding it, Alex goes to brunch with every intention of giving his father's new family the deep freeze. But he can't pull it off with Elynn's anxious green-grey eyes locked on him.
That was the day his life changed.
Four years later, Alex is as close to Elynn as a stepbrother can be. But that's not enough for him. He wants more…and he's done waiting.
***Making Her His is the first novel Singular Obsession series. No cliffhangers and no serials. Each novel stands alone. Though it flirts with some bondage, Making Her His is not a BDSM title. Not suitable for readers under 18.***
What format is this book in? eBook, Print Book
Have you read this book or another by this author? Tell us about it in the comments!