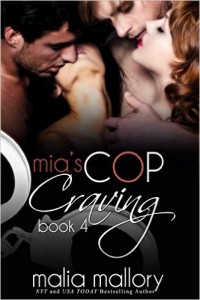 Steam:: Steam Level 5
Rogan's eyes drifted down her body and back up. "Your hair. Take it down."
From New York Times and USA Today Bestselling Author Malia Mallory
What happens when you bring together two hot cops with their ladies? Find out when Mia, Rogan, Jeff, and Gillian decide four is exactly the right number for their sensual adventure.
After Mia fulfilled her sexy police officer fantasy, not once but twice, there's nothing left to do but make their hot threesome a foursome for a sexy weekend of catering to Mia's every sensual desire. This time—being handcuffed to the headboard is just the beginning.
This is book four is Mia's sensual series. Make sure you didn't miss any of her other adventures.
What Readers Are Saying
5 Stars. "It was intimate and the characters were both realistic and likeable…oh, and of course the sex was hot!" D.C. McMillen – Author, reviewing The ABCs of Erotica
"It's pure pleasure on my Kindle." Chastity – Goodreads Reviewer, regarding Mia's Cop Craving
"Malia Mallory is an author that writes hot, sexy erotica." Lisa – Online Reviewer
"For bite-sized erotic stories, you can't get much better than Malia Mallory's ABCs of Erotica. Highly recommended." Willfully Inappropriate
"Mallory is a really good erotica writer . . . the language is spot on, little naughty, little risky." Niina – For the Love of Reading
"Well-written and hot, I was right there with the characters. So much so that I felt like a voyeur." Naughty Reader's Boudoir, regarding Mia's Cop Craving
"It was very sensual and sexy and left me breathless." Julianne – Two Lips Reviews, regarding Mia's Cop Craving 2
Get Mia's Cop Craving 4 – Swinging All Ways at Amazon
What format is this book in? eBook
Have you read this book or another by this author? Tell us about it in the comments!