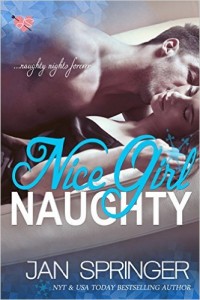 Steam:: Steam Level 4
Blind since nineteen, Summer has blossomed into a famous wood carver.
When she's almost killed by a serial killer, she's whisked away to a secluded wilderness cabin by the man she once secretly loved.
Summer can't get enough of touching professional bodyguard Nick Cassidy's thick, powerful muscles and all those other hard, yummy male body parts that she has always longed to explore.
For years Nick has stayed away from his best friend's kid sister, nice girl Summer. Now he's back, and sweeping his gorgeous redhead into the naughty cravings he's always had for her. With passion blinding him, Nick doesn't realize their hideout isn't safe—until it's too late.
Please note: Nice Girl Naughty has been previously published with another publisher. It has been re-edited for Spunky Girl Publishing.
Get Nice Girl Naughty at Amazon
Get Nice Girl Naughty at Barnes and Noble
What format is this book in? eBook, Print Book
Have you read this book or another by this author? Tell us about it in the comments!