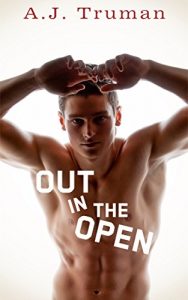 Steam: Steam Level 4
Libraries are meant for studying – not sex
College sophomore Ethan Follett never says what's on his mind and never wants to rock the boat. After a high school social life spent anonymous and alone, things are finally falling into place for him. He's found a group of friends just as studious as he, and is on track for a promising legal career. Out in the open, things couldn't be better, but secretly Ethan yearns for some real excitement in his life.
He finds it in cocky fratboy Greg Sanderson, who challenges every rigid, preconceived notion Ethan lives by. Soon, their sparring relationship turns sexual, and these enemies-with-benefits get their freak on all over campus. Yet the more Ethan comes out of his shell, the more Greg retreats into his, working overtime to keep his ladies man public persona intact. As the sex gets hotter, and they get closer to getting caught, one part of their arrangement can't stay hidden any longer: love.
OUT IN THE OPEN is a M/M new adult romance filled with humor, heart, and hot guys. The book is intended for audiences 18+ as it contains explicit sex and language.
Get Out in the Open (Browerton University Book 1) by A.J. Truman at Amazon
Have you read this book or another by this author? Tell us about it in the comments!