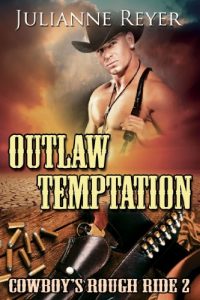 Steam: Steam Level 4
Hotshot young gunslinger Jesse Adams is in a world of trouble. Conned into becoming sheriff of a corrupt western town, he finds himself distrusted by the townspeople and without a friend in the world. Worse yet, he's haunted by disturbing dreams, strange feelings, and the suspicion that he can't even trust himself.
Now he's been given the task of hunting down notorious outlaw Clayton Murrietta and bringing him to justice. But Jesse has a history with Clay… a complicated history of shame and anger, pain and desire, that Jesse has no intention of facing. The closer he gets to his quarry, though, the harder it is to resist him. Will Jesse give in to temptation with the mysterious outlaw?
This 30k word m/m romance novella is a stand-alone sequel to Cowboy's Rough Ride: Knee Deep in Iron Creek.
Get Outlaw Temptation: Cowboy's Rough Ride 2 (Gay Erotic Romance) by Julianne Reyer at Amazon
Have you read this book or another by this author? Tell us about it in the comments!