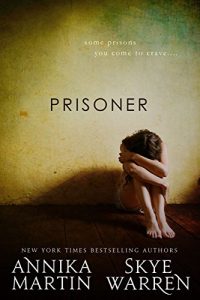 Steam: Steam Level 4
HE SEETHES WITH RAW POWER THE FIRST TIME I SEE HIM—pure menace and rippling muscles in shackles. He's dangerous. He's wild. He's the most beautiful thing I've ever seen.
So I hide behind my prim glasses and my book like I always do, because I have secrets, too. Then he shows up in the prison writing class I have to teach and he blows me away with his honesty. He tells me secrets in his stories, and it's getting harder to hide mine. I shiver when he gets too close, with only the cuffs and the bars and the guards holding him back. At night, I can't stop thinking about him.
But that's the thing about an animal in a cage—you never know when he'll bite. He might use you to escape. He might even pull you into a forest and hold a hand over your mouth, so you can't call for the cops. He might make you come so hard, you can't think.
And you might crave him more than your next breath.
****************
WARNING: PRISONER is a dark romance that explores dubious consent and captivity. Not intended for those uncomfortable with the subject matter or under eighteen.
~PRISONER is a standalone novel and the first in the Criminals & Captives series~
Get Prisoner (Criminals & Captives Book 1) by Skye Warren, Annika Martin at Amazon
Have you read this book or another by this author? Tell us about it in the comments!