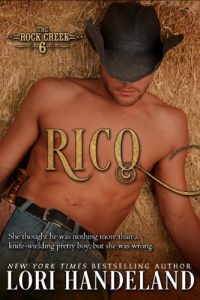 Steam: Steam Level 4
If you liked the Magnificent Seven, you'll love the Rock Creek Six!
Six elite Confederate soldiers band together after the War Between the States, hiring out their guns to protect lawless towns. Violence is all they know, until they make their way to Rock Creek, Texas.
Rico is known as "the Kid" to the other members of the Rock Creek Six. Though he can't hit much with a gun, he is deadly with a knife–and with women. But like all of them, Rico has secrets that come back to haunt him.
Lily Fortier has secrets of her own. She arrives in Rock Creek after winning the local saloon in a poker game and sets about making for herself the life she's always dreamed of having. Once known as the "ebony-eyed nightingale of New Orleans" Lily's beautiful voice has lifted her out of a shack in the swamps. Though she's always worked for others, she has her own place now, her own plans, her own life. She doesn't need a man in it–especially an aimless, decorative man like Rico.
However, Rico proves himself to be much more than a pretty knife for hire. As they work together and make a home for both themselves and the two orphaned children who love them, the two begin to wonder if they might just be made for each other.
But when a Pinkerton agent arrives in Rock Creek to drag Lily back to New Orleans to stand trial for murder, will Rico be able to save her?
Rico is the third book in the six book Rock Creek Six series, written alternately by RITA Award Winning and New York Times Bestselling authors, Lori Handeland and Linda Winstead Jones. If you enjoyed the movie "The Magnificent Seven" or the novels of Linda Lael Miller and Jodi Thomas, give The Rock Creek Six a try!
Get Rico (The Rock Creek Six Book 3) by Lori Handeland at Amazon
Have you read this book or another by this author? Tell us about it in the comments!