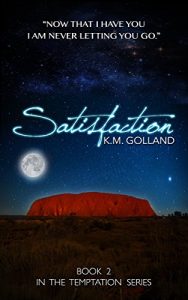 Steam: Steam Level 4
This book is for mature audiences 18+ It contains explicit language and sexual content.
Life hands out challenges that we sometimes unwillingly accept. We have no choice in the acceptance really, because that is essentially what life is; a series of challenges thrown our way for us to overcome.
Alexis Summers is no stranger to facing challenges as she has had her fair share of them since meeting and subsequently falling in love with Bryce Clark. He was her new employer who had dominantly pursued her while she was happily married. But it wasn't until her husband Rick had confessed to previously having an affair, that Alexis finally allowed herself to give in to the temptation that was Bryce Edward Clark.
In Satisfaction — Bryce and Alexis spend the most amazing week together and discover the connection and love they share with one another, goes far deeper than anything they have ever experienced. What Alexis doesn't know, is the truth behind her husband's confession, and the underhanded deal Bryce made with him behind her back. Alexis' world will come crashing down around her when she discovers their secret, and she will once again find her self faced with having to overcome more of life's challenges.
Get Satisfaction (The Temptation Series Book 2) by K.M. Golland at Amazon
Get Audiobook
Have you read this book or another by this author? Tell us about it in the comments!