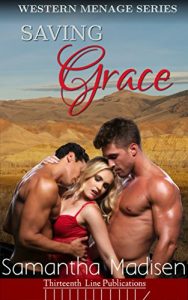 Steam: Steam Level 5
"Well, it's in the tradition, in our heritage that two men marry with one woman. That two men discipline and train her to be a good and obedient wife, that two men work to keep her in a good and comfortable home, and that two men make sure her needs are attended to. In kind, the woman submits to both men's will, does their bidding and lies with both…"
When Grace wakes up on the floor of her ranch house with a pounding headache to find her house has been robbed and ransacked, she knows she's in for a lecture from the Doc. Ever since her Pa died she's been living on her own trying to make ends meet.
Grace's Pa asked the Doc to look out for her before he passed, but the Doc's had enough of Grace's stubbornness. The robbery is the final straw and he tells Grace that he's arranged for her to marry the Sheriff Sam Spencer, so she'll have a proper man to watch over her.
But Grace has never liked Sam and tells him and the Doc as much, in no uncertain terms. When Sam rides after her into the night the two find themselves arguing on the dark dirt road just outside of town.
Cole and Austin, new to town and camping by the river, hear the argument and intervene. When the Sheriff decides he's had enough of Grace himself, she's left with the two strange men on the road. Enchanted by the beautiful curvy woman, the two men decide that night, that she'll be theirs.
Grace feels just as strongly about the two cowboys as they feel about her. She can't believe the strange tradition the men keep of marrying a single woman. But when they propose, she can't say no and the three soon find themselves as men and wife.
Only after the nuptials are over does Grace begin to understand what it means to be bride to the two handsome cowboys. Not only do they insist that she submit to the Doc for regular examinations, but they begin training her body to do things she'd never dreamed of and spanking her soundly if she doesn't obey.
Grace is ashamed at the ways she's displayed so publicly by the two men. Will she be able to put her pride aside and become the wife the two desire?
Get Saving Grace (Western Menage Series Book 1) by Samantha Madisen at Amazon
Have you read this book or another by this author? Tell us about it in the comments!