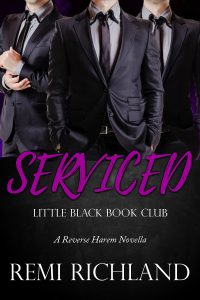 Steam Level: Steam Level 5
Category: Multiple Partners
About Serviced: A Reverse Harem Novella:
Some days it's hard being the boss.
No one knows that as well as Elizabeth Beckett. As the Event Coordinator for a prestigious Las Vegas hotel, Elizabeth burns the candle at both ends, making sure her guests are completely attended to. Taking care of others is what she excels at. The problem is that she never takes care of herself. In fact, she can't even remember the last date she's been on or the last time she just went out with friends and had a good time. For once, Elizabeth wants to know what it's like to not have to do everything herself.
A chance encounter with a handsome stranger in an elevator.
A plain black business card with the promise of fulfilling your fantasy – whatever that might be.
The Little Black Book Club extends an offer so enticing she can't turn it down.
For an entire day Elizabeth is no longer in charge. From sunup to sundown she is not to lift a finger – while having her every need taken care of by not one, but three different men.
So rigid. So disciplined. So repressed.
Can she handle giving up control and allow herself to be pampered?
It's time for Elizabeth to get serviced.
Links to Purchase eBooks
Link To Buy Serviced: A Reverse Harem Novella On Amazon

Disclaimer: All information for this book was submitted by the author and is presented as is so you get to know the author and their style. Prices are subject to change.