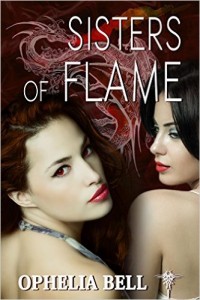 Steam:: Steam Level 4
A Red Dragon's breath is all it takes for most humans to lose their minds with desire. For Erika, all she needs is to lay eyes on her lover, Geva, and she's ready to have his babies.
Temporarily separated from the true object of her desire, Erika finds herself increasingly distracted by Rowan, Geva's younger, more powerful, and beautiful sister. It doesn't help that dragons are typically open with their affections, or that Rowan and her pair of mates keep inadvertently taunting Erika with their sexual rendezvous.
When Erika is finally offered a chance to fulfill her unending curiosity and longing for a deeper connection with the beautiful female Red dragon, she takes it, and not just because her lover would have wanted her to.
After an evening of deep sapphic connection, she may find more than another lover. Will Rowan be able to fulfill a need that Erika didn't even know she had?
Sisters of Flame is a 9,000-word novella set in Ophelia Bell's "Rising Dragons" world, where the standard rules of sex don't quite apply. Dragons are funny that way, but they do love to make their lovers very happy, so only read this if you really enjoy reading explicit sexual content. This book is absolutely intended for adult audiences.
This book is part of a series. It can be read as a standalone, but if you want to be "in" on all the fun little details, it's best if you start with Animus, Book 1 of Sleeping Dragons, especially if you want to know what makes Erika tick.
Get Sisters of Flame at Amazon
What format is this book in? eBook
Have you read this book or another by this author? Tell us about it in the comments!