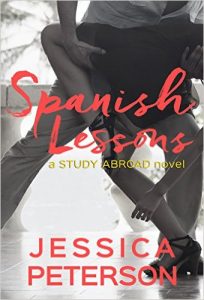 Steam:: Steam Level 4
Vivian Bingley has big plans for her semester abroad in Spain…
Along with her BFF Maddie, Vivian hopes to indulge her inner Art History nerd by visiting the best museums in the world. She also wants to tackle more practical concerns—like a less than stellar GPA in her major, Economics—with the help of a Spanish tutor.
But falling for her studly Spanish tutor definitely isn't one of them.
Madrileño Rafa Montoya is the stuff study abroad dreams are made of: super studly and super smart. He also happens to be super into Vivian. With his wicked dancing skills and his passion for the arts, he tempts her to throw caution to the wind and live out her wildest dreams.
Only problem? Maddie wants Rafa, too, and Vivian promised herself she'd never settle for second best again…not after a hookup-gone-awry last semester left her heartbroken. Is it best for Vivian to protect her heart at all costs? Or is letting Rafa in worth the risk?
Book 1 of the Study Abroad Series – a New Adult romance suitable for mature readers.
Excerpt from SPANISH LESSONS, copyright 2016 by Jessica Peterson
I don't have time to think or catch my breath. Rafa keeps kissing me, and the kiss keeps getting better. Deeper. My head spins as I try to keep up with him. He's slow and fast and insistent and soft, all at once. I lose myself in him, my mind a blessed blank. He's just as good a kisser as I thought he'd be.
Better, even. There is something incredibly sexy about the way he moves. He's confident without being overbearing. Yes, the kiss is his, but that means I'm his focus. He lavishes me with attention and care, his tongue working to open me to him, and I open, willingly, wildly.
This is how everyone dreams of being kissed. With abandon. With feeling. I grasp his forearms, my fingers digging into his bare skin as I hold on for dear life.
There is nothing safe about Rafa. Not the way he looks at me or the way he dances or how I feel when he touches me. Definitely nothing safe about the way he kisses me.
But I feel safe with him anyway. Safe to be myself. Safe to kiss him back without worrying about what happens next.
I feel safe because we'll probably never see—much less kiss—each other again. He's way out of my league. And I don't want to fall for a guy I'll just have to leave in a few months. I don't want to get hurt again. I can't bear it.
This is just a kiss, I tell myself.
It's just one kiss that he won't remember, that I will try to forget.
Still. There's this rush between my skin and bones that whispers to me, telling me this is no ordinary kiss.
That nothing will be the same after this kiss.
What format is this book in? eBook, Print Book
Have you read this book or another by this author? Tell us about it in the comments!