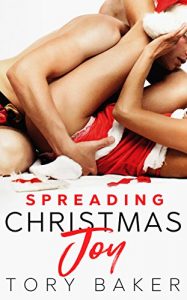 Steam: Steam Level 5
Joy loves everything about Christmas.
Her town has even nicknamed her Christmas Joy.
Eb is a recluse who has no time for the holiday.
When Joy comes over to share her cookies and spreading Christmas cheer,
there's only one thing that Eb wants to spread.
Joy.
This standalone Christmas novella is hot enough to put you on Santa's naughty list and give you visions of a lot more than sugar plums dancing.
Get Spreading Christmas Joy by Tory Baker at Amazon
Have you read this book or another by this author? Tell us about it in the comments!