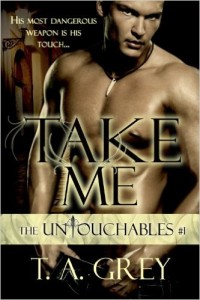 Steam:: Steam Level 4
Book 2, Tempting Gray, available now at http://amzn.to/1giKSsh!
"The Untouchables—is a smartly crafted, highly erotic, and emotionally charged paranormal romance.." -Vampire and Immortals Books
SHE MAKES HIS BLOOD BURN
Dominic Blackmoore meets the woman who captures his mind and body with a look and he's instantly taken with her. When he was ordered to take another mate quickly after separating from his ex, he loathed the idea. However, after catching sight of his bruid he quickly changes his mind. He finds her utterly captivating, sensually erotic, and yearns to learn everything about her.
BUT SHE'S NOT HIS BRUID
The woman he's mistaken as his bruid is none other than the event planner, Felicity Shaw, for his mating ceremony. Now Dominic will do everything it takes, even lie to the woman he craves, to keep her at his side. He needs to mate with his bruid in order to win his political campaign but he finds himself falling in love with Felicity Shaw. In the end he must choose between work or love. He may make the right decision, but is it too late to save his lies from hurting Felicity?
HE TAKES HER BREATH AWAY
Felicity Shaw wants more in life. She'll even lie to get it, which is exactly how she lands a job with the illustrious Blackmoore family. However, it's the head of the vampire household, Dominic Blackmoore, that has her heart racing and breath catching. The man consumes her unlike anyone ever has before. She can't resist him though she tries. As she's forced to work with Dominic she tries to keep away from him but he doesn't make things easy.
She may want him with a passion she's never experienced before, but she will not be with him when he's mating to another woman. It's either her or no one. But one terrible lies seals their fates together in ways neither of them imagined, threatening their love and the very fabric of their relationship.
Get Take Me at Amazon
Get Take Me at Barnes and Noble
What format is this book in? eBook
Have you read this book or another by this author? Tell us about it in the comments!