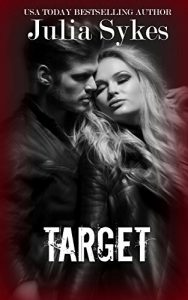 Steam: Steam Level 5
The first installment in the RENEGADE serial from USA Today Bestselling Author Julia Sykes!
When Ian saves Lissa from a terrible first date, he discovers that they share a sizzling physical connection. Unwilling to draw the seemingly innocent young woman into his world of violence and espionage, Ian tries to keeps his distance. But when the blonde bombshell asks him to introduce her to BDSM, he can't resist.
Ian vows to protect her from his secret life, but Lissa quickly becomes involved in the danger that surrounds him. What neither of them realize is her secrets might put them both in greater peril than Ian ever imagined.
Note: This is the first 20,000 word installment in a set of serialized novellas. TARGET has a cliffhanger ending.
Get TARGET (RENEGADE Book 1) by Julia Sykes at Amazon
Have you read this book or another by this author? Tell us about it in the comments!