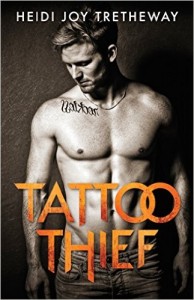 Steam:: Steam Level 4
A rock star on the run meets his match in the stranger who wants to bring him home.
Beryl doesn't know why Gavin Slater trashed his penthouse, abandoned his dog and fled the country. But as his house sitter, she must pick up the pieces for the front man of the white-hot rock band Tattoo Thief.
When Beryl confronts the reckless rock star, she wants to know more than just what to do with his mess. Why is he running? What's he searching for? And is he responsible for the death of his muse? Beryl must find her footing in Gavin's crazy world to discover her own direction and what can bring him back.
TATTOO THIEF is a full-length, standalone new adult contemporary romance (no cliffhanger). It contains steamy scenes and strong language intended for mature readers.
Get Tattoo Thief at Amazon
Get Tattoo Thief at Barnes and Noble
What format is this book in? eBook, Print Book
Have you read this book or another by this author? Tell us about it in the comments!