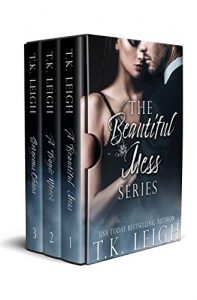 Steam: Steam Level 4
The complete USA Today Bestselling Series in one convenient box set.
He's a retired Navy SEAL who put his life on the line to protect his country. Now the only thing he cares about is protecting her.
Olivia Adler is a woman with a troubled past. For the past decade, she has remained unattached to anyone, men included… Until Alexander Burnham walks into her life one night and changes everything.
But he has demons of his own, ones that could turn her world upside-down.
Will Olivia allow Alexander close enough to protect her from a force threatening her very existence?
Or will she push him away and guard her heart instead?
Box Set Contains:
1. A Beautiful Mess
2. A Tragic Wreck
3. Gorgeous Chaos
Get The Beautiful Mess Series by T.K. Leigh at Amazon
Have you read this book or another by this author? Tell us about it in the comments!