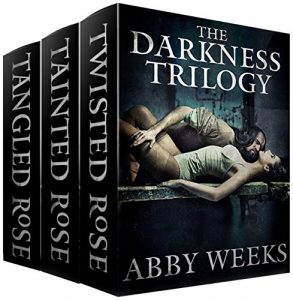 Steam: Steam Level 5
Warning! These book contains triggers that some readers will find distressing. It is not for the faint of heart.
This is the provocative, critically acclaimed, best-selling Box Set containing three full novels. The Darkness Trilogy
Tangled Rose
Tainted Rose
Twisted Rose
These books follow the full story of Rose Meadows. They are drawn from experiences in the author's own life and reveal a heartbreaking and painful story of abuse, degradation and humiliation. While the trilogy as a whole ends happily, terrible things happen to Rose in these pages. You've been warned!
The story opens with Rose being kidnapped. She wakes up in a motel room, tied to the bed, and she is terrified. Never could she have imagined what the men who took her have in store. The pleasures they seek are not only sexual; they want that, but they also want to abuse her in more degrading and devastating ways. They want to humiliate her. They want to debase her. And most of all, they want to break down her trust in the one thing that can eventually set her free: Love.
Start this trilogy if you are brave enough to see it through to the end. It is a heartbreaking story but it is also a triumphant one. It shows that love can be found in the darkest of places, and that sometimes it is the roughest and hardest of men who prove to be the most surprising.
Get The Dark Rebel Motorcycle Club Trilogy: Motorcycle Dark Romance Box Set (The Darkness Trilogy Book 4) by Abby Weeks at Amazon
Have you read this book or another by this author? Tell us about it in the comments!