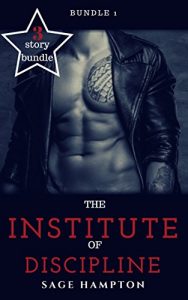 Steam: Steam Level 5
Eighteen year old trouble maker Cal Mason is looking at some serious prison time. Until he's offered a chance at redemption. Enrol at the Institute of Discipline and prison is off the table.
Cal grabs the opportunity with both hands, but doesn't realize that the institute isn't the easy choice he thinks it is.
The institute demands complete control and discipline, and Cal's every move is watched and his every infraction is punished. But as his relationship with his room mate and mentor Darlan begins to blossom, Cal's still looking for any chance to make trouble.
This bundle contains the first three volumes of the Institute of Discipline series: Enrolled at the Institute, Mentored at the Institute, and Punished at the Institute.
Control of the body leads to control of the mind, that's the theory. But rebellious Cal doesn't believe in control of any kind. Or at least he didn't, until he was enrolled at the institute…
Get The Institute of Discipline: Bundle 1 by Sage Hampton at Amazon
Have you read this book or another by this author? Tell us about it in the comments!