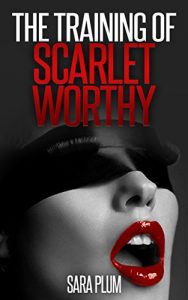 Steam: Steam Level 5
When a young woman escapes the repressive farm life to attend an equally stifling all-girl college, her need for love and acceptance leads her to a summer job assisting a senior aristocratic mystery woman in southern England. Her infatuation with her beautiful mistress leads her to a wildly bizarre term of sexual slavery, but through a series of erotic and lusty events, she is rewarded for her abilities while discovering her true beauty, and a leadership power that she was unaware she possessed.
Blend in an Edwardian estate to this bizarre adventure, a healthy dose of colorful characters, jaw-dropping scenes of bondage, sexual tease and denial, and a mystery that adds a shocking surprise, and soon Scarlet finds that love can blossom in several unusual relationships, including one with a man of intrigue that opens to a position where all of her dreams are there for her taking.
Get The Training of Scarlet Worthy by Sara Plum at Amazon
Have you read this book or another by this author? Tell us about it in the comments!