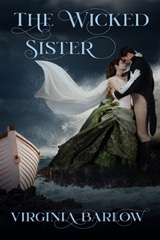 Steam Level: Steam Level 3
Category: New Adult Historic Romance
About The wicked sister:
She closed her eyes when she went over the edge and Waited for the impact … What did you catch Val ?.. Val was taking in a heated inventory at the women he held in his arms . he focused on the disarray of he hair, the fullness of her breasts,…" I merely asked the Gods for their favor on our hunt , and the dropped a Goddess right into my arms "…. Desire slammed into him like a battle-ax .
Purchase Print Books
Buy The wicked sister Print Edition at Amazon
Buy The wicked sister Print Edition at Barnes and Noble
Links to Purchase eBooks
Link To Buy The wicked sister On Amazon

Disclaimer: All information for this book was submitted by the author and is presented as is so you get to know the author and their style. Prices are subject to change.