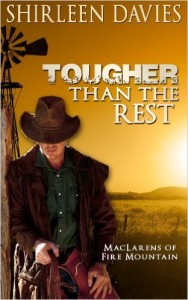 Steam:: Steam Level 4
A passionate, fast-paced story set in the untamed western frontier by an exciting new voice in historical romance.
Niall MacLaren is the oldest of four brothers, and the undisputed leader of the family. A widower, and single father, he is focused on building the MacLaren ranch into the largest and most successful in northern Arizona. He is serious about two things—his responsibility to the family and his future marriage to a goal of a wealthy, well-connected widow who will secure his place in the territory's destiny
.
Katherine is determined to live the life she's dreamed about. With a job waiting for her in the growing town of Los Angeles, California, the young teacher from Philadelphia begins a journey across the United States with only a couple of trunks and her spinster companion. Life is perfect for this adventurous, beautiful young woman, until an accident throws her into the arms of the one man who can destroy it all.
Fighting his growing attraction and strong desire for the beautiful stranger, Niall is more determined than ever to push emotions aside to focus on his goals of wealth and political gain. But looking into the clear, blue eyes of the woman who could ruin everything, Niall discovers he will have to harden his heart and be tougher than he's ever been in his life…Tougher than the Rest.
Excerpt:
Kate heard her doorknob turn, and the door open. Niall stood inside her room in bare feet, dressed only in his dress pants.
His skin was darkened from the summer months of working without a shirt. His body was muscled from the heavy work a ranch required. His dark hair was tousled as if he, too, had been lying awake in bed, unable to sleep. His arms hung limp at his sides. His expressive green eyes bored into hers as she turned to face him.
Does she know that with the fire behind her, I can see right through that nightdress? It was as if she had nothing on. Even as he advanced toward her, he knew he shouldn't have come. This was wrong in so many ways. But his body had a mind of its own and he was unable to deny it…
…Now he was in her room, half dressed, and wanting nothing more than to pick her up and take her to bed. He advanced slowly, waiting for her to make a sound, to tell him to stop, but she just watched him advance.
"I shouldn't be here," Niall whispered. "You belong to someone else."
Kate said nothing, just continued to stare into those dark pools of emerald green. Niall stopped a couple of feet away.
"We don't have a future." His throat worked as the words came out. He wanted, needed, Kate to understand that the pull between them, if they acted on it, wouldn't change his plans. He advanced until she was only inches away. "Tonight won't change anything," he rasped, the words barely discernible. "We can only have this one night."
Get Tougher Than The Rest at Amazon
Get Tougher Than The Rest at Barnes and Noble
What format is this book in? eBook, Print Book
Have you read this book or another by this author? Tell us about it in the comments!