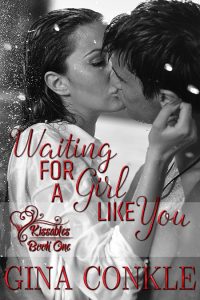 Steam Level: Steam Level 4
Category: Contemporary
About Waiting for a Girl Like You:
2 *hot* novellas in 1 Book
Proper Care and Feeding of a Broken Heart
Bookstore clerk Abbie is off-the-charts nervous her first night moonlighting in a sex-for-hire job. If she only kept her mouth shut…but nothing goes as expected, including the intense blue-eyed surfer who walks through her door. Mark wants to work out a few kinks —and leave the lifestyle for good. Past mistakes still haunt him, but sweet Abbie turns Mark's plans upside down, and two broken hearts discover honesty is the hottest aphrodisiac.
Anything But Safe
Former trophy wife Jennifer wants to thrive again, but when her new life hits a speedbump, her unlikely hero is rough working man AJ. The woman he rescued is out of his league, but the two together are magic. Jennifer smooths his hard edges, and when she's with AJ, her true, quirky colors show. A surprise threatens to derail the two who quickly learn…love is anything but safe.
Purchase Print Books
Buy Waiting for a Girl Like You Print Edition at Amazon
Links to Purchase eBooks
Link To Buy Waiting for a Girl Like You On Amazon
Link to Waiting for a Girl Like You on Barnes and Noble/Nook
Link to Waiting for a Girl Like You for sale on Kobo

Disclaimer: All information for this book was submitted by the author and is presented as is so you get to know the author and their style. Prices are subject to change.