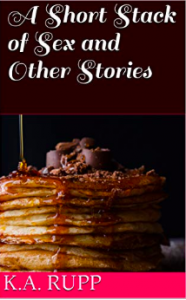 Steam Level: Steam Level 3
Category: Anthology
About A Short Stack of Sex and Other Stories:
In 'A Short Stack of Sex and Other Stories' readers will discover 21 erotic literary quickies. These short stories are written in first person for the author invites you the reader to imagine yourself in these sexy scenarios. And where is the fun in settling down with only one specific male character? The 21 titillating tales have a range of male protagonists from a cowboy, a French artist, a US marine, a Scottish Highlander, and many more. As for the 'Other Stories' in this collection they range from fantastical; a vampire being cornered by a vampire hunter. To contemporary – an examination of what it means to be lonely. There are also a few dirty limericks that will guarantee make you think, "what the heck". So, submerse yourself into these short stories and ride the waves of emotion that might rise within.
Available as an Amazon Kindle Ebook for .99 cents or free on Kindle Unlimited.
[Read more…] about A Short Stack of Sex and Other Stories by K.A. Rupp