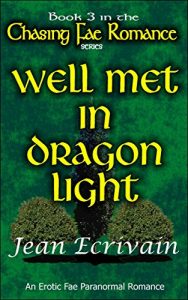 Steam: Steam Level 5
The third book in Jean Ecrivain's new Fae Paranormal Romance Erotica series "Chasing Fae Romance".
Poor little Sarah. She's blonde, beautiful, artistic, and successful. The only thing she doesn't have in her life is a man.
Then Robin returns to her life and everything changed.
After her adventures in Book 1 Well Met in Forest Light and Book 2, Well Met in Castle Light, Sarah and Robin have been kidnapped from the Fae Fair. Only the beautiful Kitsune Moriko remains behind to rescue them.
But how?
She needs help.She needs Sarah's partner and friend, Tara. In Tara, she finds more than an ally.
Will Sarah and Robin survive as slaves? Will Moriko and Tara survive their rescue? Will paranormal fae romance and erotica embrace Sarah, Robin, Tara, and Moriko? Or will Neo complete the nefarious plans he launched in book 1?
Read Book 3 in the hot new Chasing Fae Romance series Well Met in Dragon Light to find out.
Warning: this book is for adult entertainment purposes only. Not to be read by people under the age of majority (18+, 21+) in your jurisdiction. Contains: Adult situations, Sex and sexual matters, threesomes and menage ( FMF, MMF, FFF ), orgies, and BDSM or erotic submission references.
Get Well Met in Dragon Light (Chasing Fae Romance Book 3) by Jean Ecrivain at Amazon
Have you read this book or another by this author? Tell us about it in the comments!