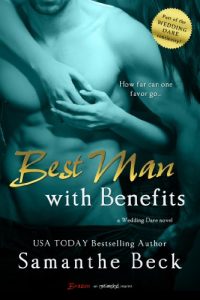 Steam: Steam Level 5
Logan McCade arrives at his best friend's wedding overworked and in desperate need of a vacation, only to discover his best man duties have been…expanded. He must coax Sophie, Colton's little sister, out of her shell or risk her hiding in her room all week. Logan figures he can handle one shy bridesmaid, but he's not expecting how much he enjoys "handling" Sophie.
Socializing has never been introverted web designer Sophie Brooks's strong suit, but she's determined to shed her wallflower image and embrace the "New Sophie"-a feat made easier with the supremely sexy Logan McCade tempting her to explore all her forbidden fantasies. If she's not careful, she just might fall for the best man.
Sophie's sweet, sexy, and delectably awkward demeanor brings much-needed calm to Logan's hectic life. With the nuptials only days away, Logan is forced to face the possibility that his favor to a friend might have become something else entirely…and that he's not willing to let Sophie go. Ever.
Each book in the Wedding Dare series is a standalone story that can be enjoyed out of order.
Get Best Man with Benefits (Wedding Dare series Book 4) by Samanthe Beck at Amazon
Get Audiobook
Have you read this book or another by this author? Tell us about it in the comments!