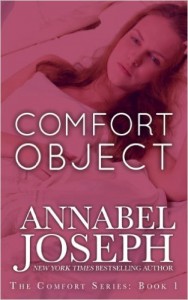 Steam:: Steam Level 5
Nell, an out-of-work professional submissive, is desperate to find a job when she meets handsome film star Jeremy Gray at the restaurant where she works. He says he needs a personal assistant, but the work contract he shows her details not organizational duties, but sexual ones. Jobless and homeless, Nell agrees to work for him anyway, on the promise that he will pay for her to finish her college degree when her stint as his "assistant" is complete.
The start of their formal Dom/sub relationship is rocky, but they soon fall into a mutually satisfying, highly sexual routine. They play vanilla boyfriend and girlfriend in public, while Jeremy uses Nell as his kinky comfort object behind the scenes. Then a stalker threatens their secret lifestyle, and their contract may not be strong enough to hold them together.
This novel contains sensual content: Anal play/intercourse, strong BDSM themes and content including spanking, bondage, exhibitionism, ménage (m/f/m), group sex.
Get Comfort Object at Amazon
Get Comfort Object at Barnes and Noble
What format is this book in? eBook, Print Book
Have you read this book or another by this author? Tell us about it in the comments!