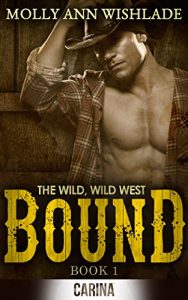 Steam: Steam Level 5
Runaway mail-order bride Layla Powell is terrified when she is captured by two powerful cowboys purporting to work for her fiancé – the mysterious Mr Jackman. At first Layla fights tooth and nail for her freedom, but Charlie and his lover Etu have their own erotic methods to subdue their feisty captive…
In fact Charlie is really Layla's fiancé. She was supposed to be his wife in name only, but he and Etu like what they see. They are sure that just one night of being pleasured by them both will be exciting enough to convince Layla to abandon her plans to run and keep her in their bed forever!
Get Bound by Molly Ann Wishlade at Amazon
Have you read this book or another by this author? Tell us about it in the comments!