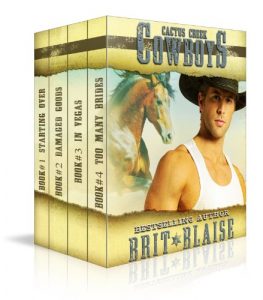 Steam: Steam Level 5
It's an erotic anthology! 99¢ for a Limited Time! Each of these stories is a continuation of the previous one that keeps the characters alive and kicking.
Book 1 – Starting Over – Ten years and a failed marriage make Ridge White question if he'll ever get over the one who got away. Face to face with the woman who destroyed his heart, Ridge shows what makes a cowboy from Cactus Creek so special.
When fashion model, Holly Turner, returns to Arizona, she's ready to do whatever it takes to get her cowboy back in arms.
Book 2- Damaged Goods – Cowgirl Alicia Moore spends most of her time wondering when handsome Brett Coleman will finally notice her…until she destroys any change she ever had with him. It's the kiss of death when Brett's best friend catches her "in flagrante" with not one, but two men. Now Alicia can only hope for a single sizzling night with Brett. After all, what man would want damaged goods?
Brett isn't sure what's come over the girl who'd grown up following him around the ranch like a puppy. He learns firsthand, however, that Alicia is all woman, and he can't begin to get enough… BDSM
Book 3 – In Vegas – Tam is in over his head. For more years than he can remember, he's carried a torch for Bobbi Jo. Now is his chance to show her that she picked the wrong cowboy when she'd married his best friend.
Bobbi Jo goes to Vegas to see her ex get married again. The last thing she expects is to find love with another Cactus Creek Cowboy.
Book 4- Too Many Brides – For a cowboy on the prowl in Vegas, what could be better than waking up in a room with six naked women? Nothing! What could be worse? He's married to one of them, only the women aren't talking and he can't remember which one.
Get Cactus Creek Cowboys by Brit Blaise at Amazon
Have you read this book or another by this author? Tell us about it in the comments!