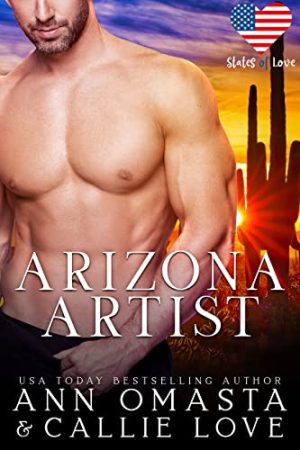 Steam: Steam Level 5
After Kendall catches her boyfriend cheating, she drives off, only to wind up stranded in the Arizona desert. Reclusive artist Thom rescues her and reluctantly gives her a place to stay while her car is repaired — but their instant attraction is hot enough to scorch… and too strong to deny!
Fooled by the two people who are supposed to love her most, Kendall Landish did what any heartbroken person would do… She got in her car and drove until she couldn't drive any more.
When Kendall ends up stranded on a desolate road in the Arizona desert, she hopes her terrible luck is improving when handsome, creative Thom Baker shows up to rescue her.
Kendall and Thom have instant, explosive chemistry, but the sexy and mysterious man is keeping something from her.
Will Thom's surprising secret ruin the couple's chance at finding their happily-ever-after ending? Find out when you read Arizona Artist.
The States of Love books are scorching stories with heat, heart, suspense, and laughter. They feature hunky heroes, strong heroines, seductive instalove, sizzling bedroom scenes, and satisfying happily-ever-after endings. Start anywhere. Binge-read them all. Feel the desert heat with Arizona Artist now to satisfy your steamy romance craving.
Get States of Love: Arizona Artist by Ann Omasta, Callie Love at Amazon
Have you read this book or another by this author? Tell us about it in the comments!