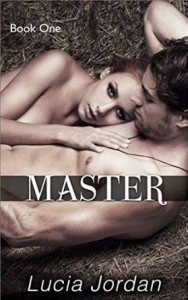 Steam:: Steam Level 5
This is the first book of the 'Master' Series, a seriously hot and provocative romance by Lucia Jordan, written in her signature style of high passion with searing depictions of sex and emotion.
Shaelyn McBrady turns up to a violin lesson in a new town full of hope; hope that she will be able to move on from losing her father, hope that she will make some new friends, and hope that she will learn more about her beloved stringed instruments. But the music teacher, Luke Gianni, sees the one hope that Shaelyn is too scared to admit, even to herself – the hope for love and passion.
Luckily, Luke is a persistent man and won't give up until Shaelyn has at least given him a chance. Shaelyn, however, has her doubts, that is until she starts getting to know Luke intimately and realizes he might just be a man she can't resist.
But when she doesn't hear from him after their first night together, Shaelyn begins to wonder whether maybe she got him wrong after all. Is Luke just like all those other callous men she's fallen for in the past? And when Luke passes by Shaelyn's house and sees her in the arms of another man and wonders if it's actually Shaelyn who is playing Luke? Will the couple be able to resolve their differences? And, if they do, what other surprises do they have in store?
This ebook contains very hot and explicit descriptions of romantic activity. Only mature readers should download this book.
Get Master at Amazon
Get Master at Barnes and Noble
What format is this book in? eBook
Have you read this book or another by this author? Tell us about it in the comments!