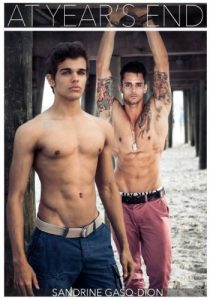 Steam: Steam Level 5
Book 2 (This book contains characters from the Assassin-shifter books and is not meant to be read as a standalone)
Warning: This book contains scenes of homosexuality, crude language and violence.
Ever since he set eyes on Jaxon Salvatore at Camp Pride, 16-year-old Elijah Newman knew who he'd be spending the rest of his life with. The tough guy, on the other hand, was not getting that message. Rebuffed at every turn, Elijah does his best to make the middle Salvatore brother understand that their lives were meant to be connected. Suddenly, odd things begin to happen and Elijah becomes more and more convinced that there's a demon inside him. All he can do is try to keep his friends – and the man he's beginning to love – safe from his secret.
Two long years have passed since Jaxon Salvatore first laid eyes on the boisterous, beautiful – and much younger – Elijah Newman. Fighting off the teenager with the huge blue eyes has been torture from day one. Now, Elijah is about to turn 18 and Jaxon finally sees light on the horizon for a life with him. But strange things are happening: the teenager doesn't flirt with him like he used to, he rarely hangs out with his buddies and he talks about having a boyfriend. A boyfriend? Things are NOT good.
When awful things happen to Elijah, Jaxon struggles to keep the younger man safe and himself sane. From the coast of Washington, to the peak of Mount Olympus, Jaxon will stop at nothing to keep what's his.
Get At Year's End (The 12 Olympians) by Sandrine Gasq-Dion at Amazon
Have you read this book or another by this author? Tell us about it in the comments!