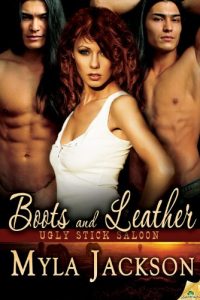 Steam: Steam Level 5
This biker chick longs for the open road…until two Kiowa cowboys shift her gears.
Ugly Stick Saloon, Book 2
Eight months ago, Libby Jones parked her motorcycle in Temptation, Texas, to work at the Ugly Stick Saloon. Since then she's grown to love the bar's feeling of family, but now it's time to hit the road. The longer she stays, the greater the risk her father's investigators will track her down.
Yet she can't resist taking the Gray Wolf twins up on their offer to go riding on their ranch. Even though getting involved should be the last thing on her mind.
Ever since Libby landed at the Ugly Stick, Mark and Luke Gray Wolf have been trying to capture her attention. She's blown them off at every turn, until now. Their plan: expose her to the delights only twins can provide—and persuade her to stay for the long haul.
Libby's longing for a life she can't have makes her delay her departure just a heartbeat too long. Her hesitation gives her past time to walk through the saloon door, and all hell to break loose. Now the twins have a fight on their hands to teach her that being free doesn't mean she can't let go of her heart.
Warning: Welcome back to the Ugly Stick Saloon. Pull up a chair and set a spell, you're gonna wanna hear this tale about two hot Kiowa twins and a leather-clad biker chick. Multiple partners, a little BDSM, and one skinny-dippin' scene so hot it'll make the pages sizzle!
Get Boots and Leather: Ugly Stick Saloon (Ugly Stick Saloon Series Book 2) by Myla Jackson at Amazon
Have you read this book or another by this author? Tell us about it in the comments!