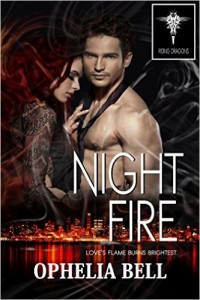 Steam:: Steam Level 4
Rafe and Rowan's Story
Rowan grew up believing she was an outcast, but found her place in the world nonetheless. Or so she believed. Her unusual features attract a very unusual and attractive man when she's in a night club looking for a new sexual diversion. What she doesn't know is that this man knows more about her than she knows herself—he knows what she really is. She falls in love with him in the process of opening her eyes to the world she really belongs in. But his love may not be enough to make her stay.
Publisher's Note: Night Fire is an 8700 word short story set in the world of the Rising Dragons series. The story takes place prior to the events of Breath of Destiny (Rising Dragons Book 1), and can be read as a standalone. There is a cliffhanger, but the story continues in Rising Dragons has a full-novella resolution for these characters in Book 6 of the series, Breath of Flame and Shadow.
Read the full series in the complete Rising Dragons Omnibus, available on Amazon now!
The Omnibus edition includes:
Night Fire (Rising Dragons Book 1)
Breath of Destiny (Rising Dragons Book 2)
Breath of Memory (Rising Dragons Book 3)
Breath of Innocence (Rising Dragons Book 4)
Breath of Desire (Rising Dragons Book 5)
Breath of Love (Rising Dragons Book 6)
Breath of Flame & Shadow (Rising Dragons Book 7)
Breath of Fate (Rising Dragons Book 8)
What format is this book in? eBook
Have you read this book or another by this author? Tell us about it in the comments!