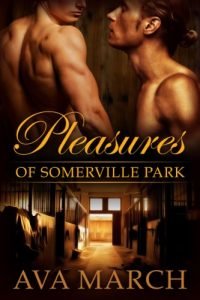 Steam: Steam Level 4
Arsen Grey, Marquis of Somerville, knows very well he is not needed in London. A visit from his youngest brother does nothing to change his mind. All he wants is to remain at his country estate with Henry Shaw.
After days of going over documents, Arsen is more than ready for his brother to depart for London in the morning. He's missed having Henry in his bed. Now if he can just convince his frustratingly cautious lover to join him in his bed for the night…
This free short story is a sequel to Object of His Desire.
Story length: approximately 5,000 words
Get Pleasures of Somerville Park by Ava March at Amazon
Have you read this book or another by this author? Tell us about it in the comments!