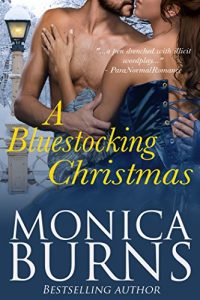 Steam: Steam Level 5
WARNING: An intelligent, well-read, alpha hero who uses illicit wordplay to get what he wants meets a strong bluestocking librarian resistant to his words of seduction until the ghost of Christmas past comes calling.
Simon, Viscount Wycombe isn't accustomed to women rejecting him outright, and when Ivy Beecham does just that right before the Christmas holiday, he realizes a new method of seduction is in order. His best hope is to appeal to Ivy's intellect. Using words from the best literary minds, Simon carries out his strategy to seduce Ivy in the most sensual,passionate, evocative way possible.
Ivy Beecham knows first-hand that handsome aristocrats and noblemen like Simon can't be trusted. But the intellectual scoundrel is he`ll bent on making her his mistress, using every erotically seductive means at his disposal. Unable to resist, Ivy succumbs to his playful words and sinfully wicked touch until her past returns to haunt her. When she refuses to give Simon her heart on Christmas Eve, a ghostly specter shows her in one night why her surrender can be the greatest gift of all.
Get A Bluestocking Christmas by Monica Burns at Amazon
Have you read this book or another by this author? Tell us about it in the comments!