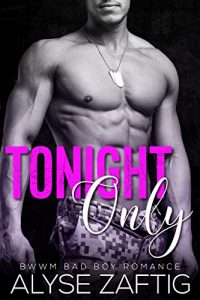 Steam: Steam Level 4
One night.
No regrets.
No repeats.
"We said one night only. Too bad I'm a rule breaker."
Before I left for the military, I spent one night with Catherine Jackson.
That was supposed to be the end… But what if I want it to be the beginning?
"I never should have slept with Kyle Richards. He's ruined every other man for me…"
I'm trying hard to move on. New job, new fiancé.
But will any of it last when Kyle comes back into my life?
**One Night Only is a full-length bad boy military romance with a guaranteed happy ending!**
Get Tonight Only by Alyse Zaftig at Amazon
Have you read this book or another by this author? Tell us about it in the comments!