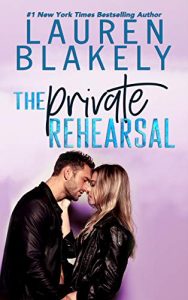 Steam: Steam Level 5
From #1 New York Times bestselling author Lauren Blakely comes a scintillating forbidden romance between a director and his actress…


The first rule of directing is simple: Never fall for your leading lady. 
The second? Don't let it get to you when she stage kisses another man.

Looks like I've already broken both. Now my jealous, possessive heart wants all of her – the ingenue who's the star of my next show. I'm captivated by her raw talent, her addictive charm, and her desperate need for me.

Soon we're staying late in the empty theater, our private rehearsals spiraling into forbidden territory. 
Exactly where I can't go. Because then I'd break the most dangerous rule of all.
Don't give her your heart. 
Because how can I be sure that what she feels is real and not a part of the play?


Author's Note: The Private Rehearsal was previously titled Playing With Her Heart. It has been significantly revised and updated. I hope you enjoy this new edition of one of my first novels!

Get The Private Rehearsal (Caught Up In Love Book 4) by Lauren Blakely at Amazon
Get Audiobook
Have you read this book or another by this author? Tell us about it in the comments!