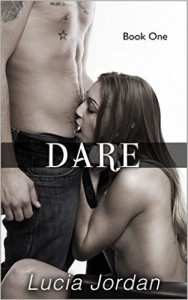 Steam:: Steam Level 5
Here is the first book in the 'Dare' Series, a seriously hot and provocative romance by Lucia Jordan, written in her signature style of high passion and emotion.
The Rope Club, dare to become a member…
That's where Jessica finds herself after her gallery shows are proven fruitless and she's desperate to pay her rent. All out of options, her friend Susan suggests displaying her work at the exclusive club where there will be hundreds of wealthy patrons who would be willing to pay well for her work. Jessica soon discovers becoming a member is not as easy as she thought and through a chance encounter, Ashton Parker, the elusively infamous billionaire might just be her way in.
The Rope Club has the power to pull you in deep and Jessica finds that things might never be the same for her again…
Only mature readers should download this book.
Get Dare at Amazon
Get Dare at Barnes and Noble
What format is this book in? eBook
Have you read this book or another by this author? Tell us about it in the comments!