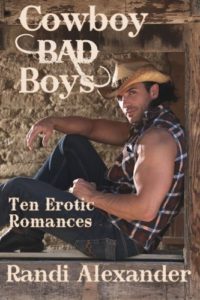 Steam: Steam Level 4
Ten Erotic Romances
Body Heat – When a rancher and his gorgeous passenger are buried in his truck under an avalanche, they discover a sensual way to keep warm.
Breakfast in Bed – A ranch foreman devises a plan to keep his woman from bolting out of his bed every time they're through making love.
Hard Headed Cowboy – When a rodeo bull rider needs a lift, his sexy equipment sponsor makes him a proposition.
High Country Ride – Fulfilling her father's last wishes, a city girl hires a hot cowboy to guide her into the Rockies.
Kill Me or Kiss Me – With her life in danger, an exotic dancer has to trust a sexy cattle rustler to keep her alive.
No Way Out – The town sheriff and the beautiful bank president he's been lusting after are cornered by a killer.
Private Lessons – When her girlfriends buy her a mechanical bull lesson with a real bull rider, a college girl gets a sensual ride from her high school crush.
Stubborn Redhead – The rancher's woman left him because of rumors of his cheating, but what will it take to make her believe his innocence?
Takin' a Chance – A barrel racer has one last opportunity to seduce the sexy rodeo bullfighter she's fallen for.
Where We Left Off – In desperate need of help, a country veterinarian contacts the man she'd loved but booted out of her life years ago.
Get Cowboy Bad Boys by Randi Alexander at Amazon
Have you read this book or another by this author? Tell us about it in the comments!