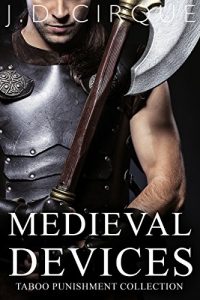 Steam: Steam Level 5
Warning: This ultimate box set of taboo, medieval fantasies contains extreme bondage and punishment, including the use of cruel devices. It is highly explicit and for mature readers and lovers of forbidden erotica only!
Prepare to take on the dark side of medieval life with all three of J D Cirque's new 'punishment' series now available in the one complete bundle.
Included stories:
Punished By The Executioner
Peasant rebel Agnes knew the ambush was a risk, but she never imagined such a bloodbath. Now she is behind the castle walls in the chamber of the punisher, his taste for torture proceeding him.
Agnes will not speak. Her lips are sealed, but the punisher has ways of loosening her tongue—dark and twisted methods that mix pain and pleasure in the most exquisite manner possible. Will Agnes survive long enough to experience it?
Punished By The Blacksmith
Innocent village girl Margery never thought her fate was this, to be traded like a cattle to a common blacksmith. Made to cook and clean, the blacksmith at first ignores her, but even Margery knows he is biding his time, waiting for the perfect moment to unleash his iron upon her.
The blacksmith has a new project, tools dark and twisted that will deliver pain and pleasure in equal measure. The question is, can Margery's simple body handle it?
Punished By The Priest
Sister Marjorie knows there is something lurking in the eyes of the priest that governs her convent, a dark cruelty her young body cannot fathom. For there is more to the convent than piety and purity, rooms and chambers unseen that will loosen even the most guarded confession.
Marjorie has a secret, a secret the abbot seeks out with rod, whip and the iron length under his robes. He will not be merciful, nor gentle, for pain holds a higher purpose in his walls—Pain is God.
Get Medieval Devices by D Cirque, Jacqueline at Amazon
Have you read this book or another by this author? Tell us about it in the comments!