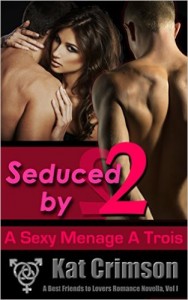 Steam:: Steam Level 5
"One of my hottest reads. I blush just thinking about it" ~ Books, Wine & Lots of Time
Maya learns that best friends share everything, even her…
Happy to spend the night at home, watching movies with her live-in lover, Max, Maya is surprised to find out Max has made other plans for them. Plans which include inviting his drop-dead gorgeous, tongue tying, panty meltingly hot best friend, Foster over.
Max thinks Maya doesn't like Foster, but he's convinced he can fix the problem if he can just get the two of them to spend some quality time together.
Maya's feelings for Foster are complicated. She feels guilty for harboring an attraction to Foster, that borders on obsession, even though she's head over heels in love with Max and obsessed with him too. She's so mixed up that she gets flustered whenever she's in Foster's presence and she acts tense, nervous and weird, when really she's crushing so hard she can barely manage to speak.
No matter – these things tend to work themselves out when a threesome of attractive, attracted, twenty-somethings sit together, on a small couch, in front of blistering hot porn, while the alcohol goes down like water…
Get Seduced by 2 at Amazon
Get Seduced by 2 at Barnes and Noble
What format is this book in? eBook
Have you read this book or another by this author? Tell us about it in the comments!