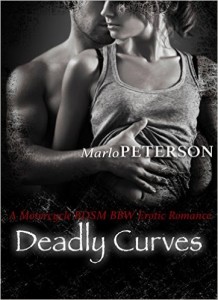 Steam:: Steam Level 5
Celeste is in training.
At least that's what the rugged, mysterious motorcycle riding alpha male told her the first time they crossed paths. Celeste had set out on a hiking journey to sort out her thoughts and put her life in order.
While on the trail, she meets a biker who will turn her world upside down, by teaching her how to let go and allow herself to embrace the more submissive side to her sexuality.
She's never be the same after this dark, scintillating adventure, and neither will you…
This 7,000 word story is the first offering in an ongoing series. Mature audiences, for plenty of descriptive raunch and kink.
Get Deadly Curves #1 at Amazon
Get Deadly Curves #1 at Barnes and Noble
What format is this book in? eBook
Have you read this book or another by this author? Tell us about it in the comments!